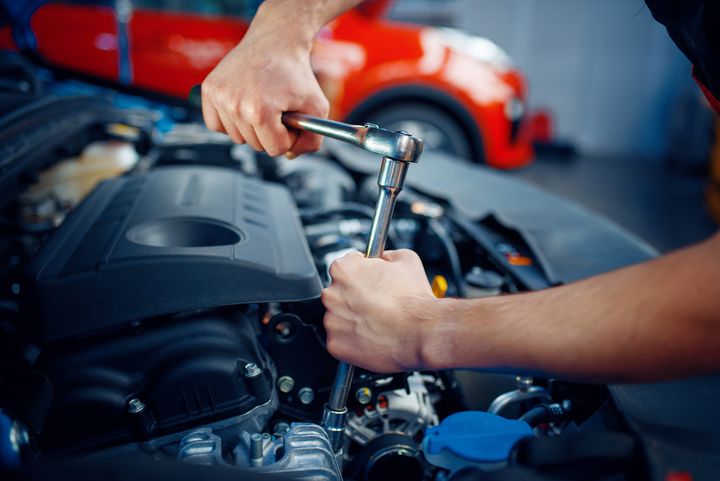 Every vehicle comes with a maintenance schedule that can be found in the owner's manual. Scheduled maintenance, or preventative maintenance, refers to the intervals in which you should bring your vehicle in for routine maintenance. While these intervals vary slightly for every vehicle, some commonalities can be found that serve as a rule of thumb for which parts of your car should be looked at and when. Auto technicians, service advisors, and auto manufacturers often recommend the 30/60/90 rule. The rule essentially states that certain services should be performed on your car when your total mileage hits 30,000-mile, 60,000-mile, or 90,000-mile intervals. Whether it's for your Chevrolet, Dodge, BMW, or Volkswagen, this rule can be followed universally. A service that should be performed regularly (approximately every 5,000 to 10,000 miles) is an oil change to keep your car's oil free of dirt and debris. With The Answer Auto Repair East's computerized maintenance management, we keep track of when certain services were performed on your vehicle and can notify you when your next service is due.
Maintenance Before 30,000 Miles
At The Answer Auto Repair East in Evansville, we specialize in automotive repair and auto body & collision services but can take care of all services needed for your vehicle. We have certain scheduled maintenance tasks that we perform when you bring your vehicle in for preventative maintenance. The services you should have performed on your vehicle before it hits 30,000 miles are:
Air Filters: Your vehicle's cabin air filter keeps your air conditioning and heating system running smoothly. If you notice an unpleasant odor coming from your vehicle and/or there is restricted airflow coming from your air conditioning, it is time to get your air filter replaced. The other air filter in your vehicle is the engine air filter, which prevents airborne particles such as dirt and debris from entering your vehicle's engine. Because of this, the air filter can provide longevity and protection for your car; as a result, regularly cleaning or replacing the air filter is important for ensuring that it always working efficiently.
Tires: During your scheduled maintenance service, our technicians will thoroughly inspect your tires to see any abnormal wear and tear and check the sidewalls for cracks and other damage.
Maintenance Before 60,000 Miles
Before we at The Answer Auto Repair East start work on your vehicle, we will go over our maintenance strategies and maintenance costs, and you can decide which services you'd like performed on your vehicle. In addition to the 30,000-mile services, these are the planned maintenance services we will perform on your vehicle when it hits 60,000 miles:
Battery: Your vehicle's battery is crucial for starting your car and keeping it running, and has a general lifespan of 3-5 years. If your vehicle's battery light turns on, it is a sure sign that your battery needs repairs. We can also replace your battery if needed.
Brake Fluid: Because particles and debris can build up in your brake fluid over time, getting it flushed out or replaced periodically is important.
Brake Pads: When you press on the brake pedal to stop, the brake pads are then pressed against the brake rotor to create friction. Particularly if you live in a hilly area, your brake pads wear out over time.
Brake Rotors: Like brake pads, brake rotors don't last forever. Because the rotors also wear every time the brakes are applied, brake rotors should be replaced or resurfaced when they are warped or worn out.
Coolant: Coolant keeps your vehicle from overheating, but over time, it loses these properties.
Transmission Fluid: Running with old or insufficient levels of transmission fluid can cause the transmission to work harder, transferring engine power less effectively.
Maintenance Before 90,000 Miles
The following are the routine maintenance services we will perform when your vehicle reaches 90,000 miles:
Hoses: As your mileage approaches six digits, getting your hoses replaced is essential to prevent a burst hose, which can cause severe damage to your vehicle.
Power Steering Fluid: If your steering wheel is stiff, this could mean your vehicle's fluid levels are low, in which case you would need to come into The Answer Auto Repair East for a power steering fluid exchange service.
Spark Plugs/Ignition System: Spark plugs supply the spark required to ignite the air and fuel mixture that enters your engine, creating the explosion that produces power in your engine.
Timing Belt: If your timing belt breaks or cracks, it can cause severe damage to your vehicle.
Your Quality Shop for Scheduled Maintenance
Look no further than The Answer Auto Repair East in Vanderburgh to fulfill all your auto repair needs. We've been fixing cars since 2000 and take workplace safety very seriously. Our Expert technicians have decades of experience and can take care of your vehicle, any model and any make. We treat every work order with the utmost importance, no matter the size of the service, and make sure each customer has the best user experience possible.
We are dedicated to providing a top-notch customer experience and will make sure any issues with your vehicle are fixed as soon as possible.
Reasons You Should Do Business With Us:
Transparency
Honesty
Integrity
We are Experts
Years of Experience
If you are in or near Evansville, Indiana, Newburgh, Indiana, Princeton, Indiana, Boonville, Indiana, or Henderson, Kentucky, don't hesitate to schedule an appointment with The Answer Auto Repair East in Evansville, IN 47715, today! You can schedule an appointment with us online or give us a call at 812-475-9000. You can also find us on social media. The Answer Auto Repair East - The Tri-State's ONLY FREE Diagnostics.