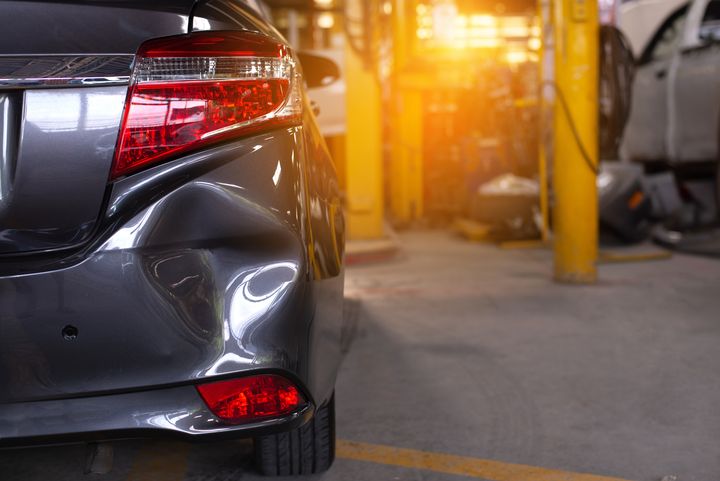 What is paintless dent removal?
PDR, also known as paintless dent removal, is a technique of repairing car dents by reshaping the vehicle's body panels. Paintless dent removal is a great alternative to traditional dent removal methods because it is cheaper and more efficient. At The Answer Auto Repair East, our Quality technicians have a streamlined PDR process and use special tools to repair small dents. With paintless dent repair, the dented panel is pushed out and massaged from behind to restore its original shape without needing a paint finish or body filler. If you live in Evansville, Indiana, Newburgh, Indiana, Princeton, Indiana, Boonville, Indiana, Henderson, Kentucky or beyond, do not hesitate to come to The Answer Auto Repair East in Vanderburgh if you would like your minor dents repaired with PDR.
What are some causes of small dents?
There are several reasons that dents and dings can appear on your vehicle. Luckily, dents that occur from the following causes can most likely be repaired by paintless dent removal:
Collision: If you see another color of paint on your dent, it was probably caused by a collision. As one of the most reputed body repair shops in the area, The Answer Auto Repair East can go over the repair cost of repairing a dent from a collision.





Hail damage: Hail storms can cause dents on the hood, roof, or trunk of your vehicle. Depending on the size and quantity of dents on your vehicle, we can decide which repair processes to pursue. While small dents can be fixed with paintless dent repair, larger dents will need some extra attention. We at The Answer Auto Repair East in Evansville can go over which processes to use with you.
What kinds of dents can be repaired with paintless dent removal?
Paintless dent removal is great for removing a variety of dents, but there are some factors to consider to determine if PDR is right for your vehicle's dent. At The Answer Auto Repair East in Evansville, we can quickly assess if we can repair your dent with PDR and go over your options with you. We will never perform services without your consent.
Here are some factors to look out for to see if the dent can be repaired with paintless dent removal:
Creasing in the dent: If the dent is creased, it probably cannot be repaired with paintless dent removal alone. There will still be a ridge after the dent is smoothed out, and if this ridge is large it will need to be repaired with traditional dent repair methods.





The depth of the dent: The deeper the dent, the less likely it can be repaired with PDR. Automotive paint only has so much flexibility, and if the dent is deep the paint will probably be chipped or cracked.
Your Reliable Shop for Dent Repair
Look no further than The Answer Auto Repair East in Vanderburgh to fulfill all your auto repair needs. We've been repairing vehicles since 2000 and our technicians can take care of your vehicle, any model and any make, including Chevrolet, Dodge, BMW, and Volkswagen. We are dedicated to providing top-notch customer experience and will make sure any dents on your vehicle are fixed as soon as possible. In addition to dent repair, we also specialize in other repair services such as automotive repair and auto body & collision services. Reasons You Should Do Business With Us:
Transparency
Honesty
Integrity
We are Experts
Years of Experience
We have a review score of 100 based on reviews from 577 satisfied customers.
Don't hesitate to schedule an appointment with The Answer Auto Repair East in Evansville, IN, 47715 today! You can schedule an appointment with us online or give us a call at 812-475-9000. The Answer Auto Repair East - The Tri-State's ONLY FREE Diagnostics.